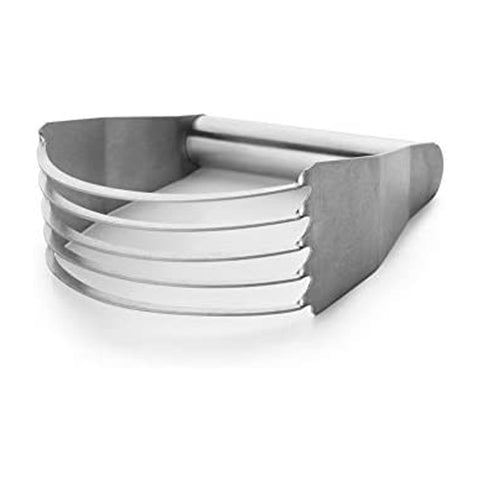 All About Baking
Ibili - Dough Blender 795300
"DURABLE AND STRONG: Five sharp, thick and strong blades make the Dough Blender one of the most durable kitchen items you can buy. Made from 100 percent stainless steel, the blades won't bend or break with frozen or firm ingredients, so you can seamlessly blend together hard ingredients into soft ones. The blades are rust-resistant and designed to last for years.

SOFT AND COMFORTABLE GRIP: Keep your hands comfy even when blending the most stubborn of ingredients. The soft touch, thick ergonomic rubber handle of the pastry blender is incredibly comfortable. It's also slip-resistant so you can get a sturdy grip, no matter what's on the menu.

SAFE AND CLEAN: Feel good about the kitchen tools you bring into your home! Our pastry dough blender is 100 percent BPA-free and phthalate-free, so it's a great option for homes. It's also dishwasher safe for an easy clean.

VERSATILE USES: Better tasting and better textured pastries, doughs, scones, pies, guacamole, salsas, and more. The list of what the Gorilla Grip Pastry Dough Blender can be used for goes on and on! Seamlessly blend together your ingredients to create tantalizing and delicious recipes. Plus, use as a potato masher, nutcracker, or vegetable and fruit slicer for an added bonus!"